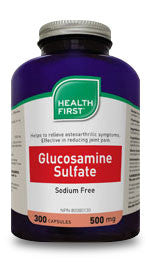 Health First Glucosamine Sulfate
Natural Product Number (NPN): 80000130

Product Brief:
As we age, our joints are susceptible to damage by wear-and-tear and our weakened
ability to manufacture our own Glucosamine Sulfate, a major factor in the health of
our cartilage. This painful condition where joints rub against one another is known as
osteoarthritis and affects the majority of North Americans over the age of 55.

Glucosamine Sulfate is a natural ingredient useful for relieving osteoarthritic pain.
Scientific studies have shown that Glucosamine Sulfate can actually regenerate new
cartilage, helping to re-establish the "cushion" between joints in the knees and hips.

The findings of a landmark trial-published in January 2001 provide solid scientific
evidence that Glucosamine relieves the symptoms of osteoarthritis and also halts
or slows progression of the disease. By comparing a series of knee X-rays among
patients who consumed glucosamine or a placebo, the break through study demonstrated
that glucosamine can favorably modify joint structure.

Each capsule contains:
Glucosamine sulfate (sodium-free) 500 mg

Non-medicinal ingredients: Microcrystalline cellulose, dicalcium phosphate dihydrate,
magnesium stearate and capsule shell (from gelatin andpurified water).

Dosage: Adults take one capsule 3 times daily or as directed by a health professional.

Storage: Keep out of the reach of children. Store in a cool, dry place. Do not use if under cap safety seal is broken.
Free from: artificial flavours, artificial colours, corn,gluten, wheat, lactose, preservatives,
sodium, soy, added sugar and yeast.