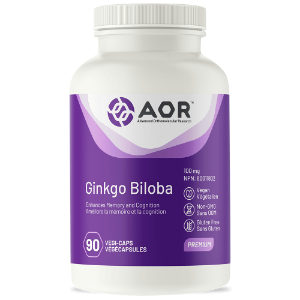 AOR - Ginkgo Biloba 120mg
Enhances memory and cognition
Supports healthy cognitive function
Enhances blood flow in the brain
Provides antioxidant benefits and helps delay the onset of cognitive decline
A standardized extract with effective quantities of active ingredients
Ginkgo biloba is one of the most well-known and well established medicinal herbs in the world, and is used mainly to support memory and cognitive function. This is attributed to its ability to enhance cerebral circulation, increasing blood flow and the delivery of oxygen and nutrients to the brain. This improves brain cell performance and provides antioxidant protection against neurodegeneration. Studies also show that Ginkgo biloba reinforces blood vessel structure in the brain and protects cerebral nerve cells from damage when deprived of oxygen.
Ginkgo supports cognitive function in young healthy adults, older healthy adults and has been shown to improve cognitive performance and social functioning in patients with cognitive decline.
AOR Advantage
AOR's standardized Ginkgo biloba extract is made from plants carefully cultivated on plantations using agricultural technology to produce leaves richer in ginkgolide B, yielding a minimum of 0.8% – the highest range available.
NPN
Discussion
Ginkgo Biloba helps to enhance memory and cognitive function in adults, and helps to support peripheral circulation.
Guarantees
AOR™ guarantees that all ingredients have been declared on the label. Contains no wheat, gluten, corn, nuts, peanuts, sesame seeds, sulphites, mustard, soy, dairy, eggs, fish, shellfish or any animal byproduct.
Adult Dosage
Take one capsule, once daily with/without food, or as directed by a qualified health care practitioner.
Cautions
Do not use if you are taking health products that affect blood coagulation (e.g. blood thinners, clotting factor replacements, acetylsalicylic acid, ibuprofen, fish oils, vitamin E) as this may increase the risk of spontaneous bleeding. Consult a health care practitioner prior to use if you are taking medications for diabetes, high blood pressure, or seizures, if you are pregnant, breastfeeding or for use beyond four weeks.
Main Applications
Age-related cognitive decline
Cerebral vascular support
Antioxidant
Cognitive enhancement
Cardiovascular disease
Tinnitus
Peripheral circulation
Disclaimer
The information and product descriptions appearing on this website are for information purposes only, and are not intended to provide or replace medical advice to individuals from a qualified health care professional. Consult with your physician if you have any health concerns, and before initiating any new diet, exercise, supplement, or other lifestyle changes.